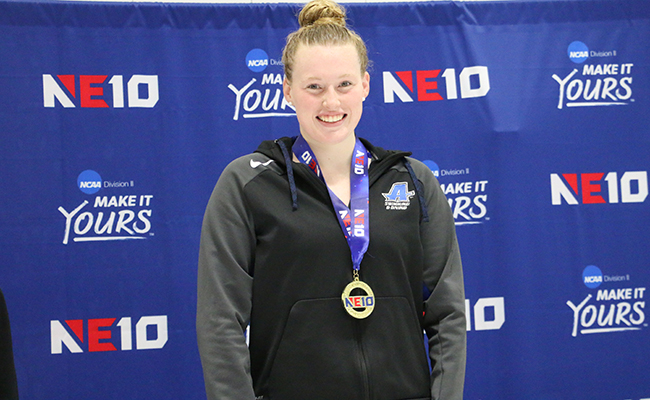 THE BASICS:
- Event: Catholic College Invitational
- Results: 4th after day one
- Location: Boston College
- The Lead: The Assumption women's swimming and diving team currently sits in fourth place at the Catholic College Invitational after day one.

HOW IT HAPPENED:
- Junior Shannon Quirk (Wakefield, Mass. / Wakefield Memorial) led the day for the Hounds, finishing second in the 500 freestyle with a time of 5:10.64. Sophomore Colleen Kurtz (Somerset, N.J. / Rutgers Preparatory) and freshman Anne Guadalupi (Augusta, Maine / Cony) joined Quirk in the 500, as they both recorded top ten finishes. Kurtz placed sixth (5:14.51) while Guadalupi finished eighth (5:21.33).
- The 200 freestyle relay consisting of senior Bry Veroneau (Belchertown, Mass. / Belchertown), sophomore Abbey Holmes (Laurel, Md. / Archbishop Spalding), sophomore Natalia Kaczor (Chicopee, Mass. / Chicopee) and classmate Sydney Rangulong (Duxbury, Mass. / Duxbury) placed fifth with a time of 1:41.69.
- Holmes competed in the 50 freestyle and raced to a time of 25.25 seconds, good for a seventh place finish, while senior Niamh Morgan (Bettystown, Ireland / Sacred Heart School) finished 13th in the 200 IM with a time of 2:16.51.
- In the 400 individual medley relay, Guadalupi, Holmes, Kaczor and junior Morgan Nicholls (East London, South Africa / Clarendon) teamed up to finish eighth overall, finishing in 4:08.20.

BEHIND THE RESULTS:
- Assumption currently sits in fourth place with 148 points, while Boston College (327), Saint Francis (214) and Fairfield (156) round out the top three.

UP NEXT:
- The Hounds return to action tomorrow as they wrap up the Catholic College Invitational at Boston College.

STAY CONNECTED:
-For the latest on Assumption College Athletics, follow the Hounds via social media on Twitter, Facebook and YouTube.