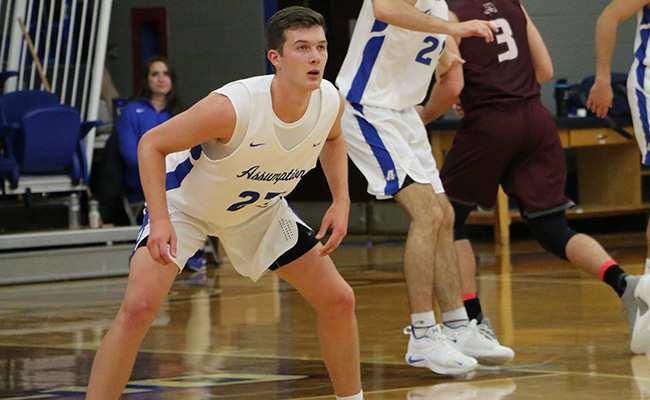 THE BASICS:
- Score: Assumption 76, NYIT 53
- Record: Assumption (4-2), NYIT (0-5)
- Location: Worcester, Mass. (Laska Gym)
- The Lead: Assumption closed the first half on a 22-4 run to blow open a close contest, and kept up the offense pressure in the second half to come away with a 76-53 victory over NYIT on Sunday in non-conference action.
HOW IT HAPPENED:
- Assumption jumped out to a 6-3 lead on a Cal Connelly (Rochester, N.H. / Spaulding / Tilton) three at 16:47 and extended it to 12-7 on a layup by Malik Brown (Waldorf, Md. / Northpoint) with 12:31 left. NYIT closed the gap to 12-10 on a three and both teams were held scoreless for three minutes, until Chris Crespo (Smithtown, N.Y. / Smithtown West) connected on a shot from downtown with 9:34 left.
- The Bears trimmed it to 17-15 with eight minutes left, however, a Matthew Kelly (North Potomac, Md. / Quince Orchard) triple at 7:52 jumpstarted a 13-0 run to push the lead to 30-15 with 4:47 remaining. NYIT was able to end the scoring drought with a basket at 4:35, but Assumption finished the half on a 9-2 run for a 39-19 advantage at the break.
- NYIT cut it down to an 18-point game before a Kelly three at 17:53 pushed it to 44-23. The shot started a 17-7 run over the next seven minutes, and Michael Speight (Morningside, Md. / Wise / Canterbury) extended the lead to 61-30 on a layup with 11:27 left. The Bears didn't get any closer than 23 points the rest of the way as Assumption was able to hold them off and come away with a 76-53 victory.
INSIDE THE NUMBERS:
- Assumption shot 44.3 percent from the floor while holding NYIT to 37.9 percent shooting and just 6 of 22 from beyond the arc. The Hounds made 42.9 percent of their threes while owning a 42-27 rebounding edge and dishing off 16 assists.
- Connelly set a new career high with 17 points, four rebounds and one block, while Branislav Vujadinovic (Belgrade, Serbia / St. Joseph) matched him with 17 points while providing seven rebounds, four assists and two steals. Crespo was also in double figures with 11 points, three assists and two rebounds. Brown came off the bench to deliver eight points and eight boards while Kelly chipped in 12 points and two assists.
- Aaron Fowlkes led NYIT with 12 points and four rebounds while Zahir Porter added 11 points, three assists, three boards and two steals.
UP NEXT:
- Assumption returns to action on Wednesday the Hounds host Saint Michael's at 7:30 p.m.
STAY CONNECTED:
- For the latest on Assumption College Athletics, follow the Hounds via social media on Twitter, Facebook, Instagram and YouTube.