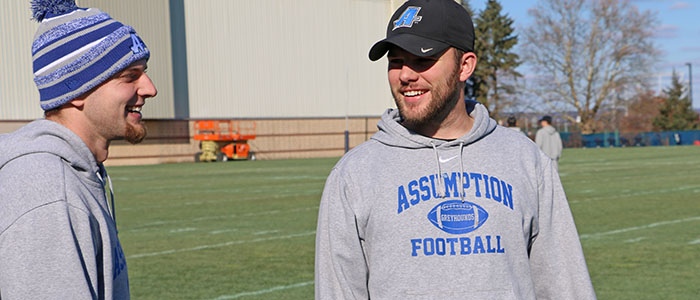 The Assumption University Department of Athletics and Recreation is responsible for protecting the reputation and image of the department by ensuring the proper usage of its team's names, logos and trademarks. In conjunction with Learfield Licensing, Assumption's athletic licensing program gives the department control over its logos and marks. This ensures quality and a consistent image of all trademarked material and helps generate revenue that in turn helps benefit the student-athletes and assures no violation of NCAA Rules.
This page is here to assist those who wish to learn about the licensing process, including how to become an officially licensed partner of Assumption University Athletics.
Licensing Guidelines
Logo Sheet

The logo sheet details all of the Assumption trademarks, consisting of a set of standards for the design and writing of documents and items that contain any Assumption trademarks.
For the full style guide please click here.
Licensing Policy for Student Organizations
Official Assumption University student organizations (club sports, SGA, etc) are required to seek approval for use of Assumption University athletics trademarks through Lauren Neilan, assistant director of athletics and recreation for communications. She can be reached by phone at (508) 767-7240 or by email at la.neilan@assumption.edu.
Becoming a Licensed Partner
Assumption College Athletics and Learfield Licensing have created guidelines for anyone wishing to feature athletic logos and trademarks on apparel and merchandise. To inquire about the process for becoming a licensed partner, please visit www.LearfieldLicensing.com. A copy of the licensing application can be downloaded and printed from the site. Restricted, one-time licenses and standard licenses are available and are explained in full detail on the site.
If you have further questions regarding licensing, please contact:
Andrew Engel
Brand Management Representative
Learfield Licensing Partners
Phone: (317) 663-7450
Email: aengel@learfieldlicensing.com
Frequently Asked Questions (FAQ's)
When am I able to use Assumption University Athletics logos and trademarks?
Any trademark which identifies or is associated with Assumption University Athletics may not be used without prior written permission from the Department of Athletics and Recreation.

What is Learfield Licensing Partners?
Learfield Licensing is the licensing representative for Assumption University Athletics. As the department's representative, Learfield is responsible for administering the licensing program, including processing applications, collecting royalties, enforcing trademarks and pursuing new market opportunities for Assumption University Athletics.

Who needs a license?
Anyone wishing to use the marks, logos and symbols of the Assumption University Athletic Department and its athletic programs must obtain a license.

What products can be licensed?
Students, alumni and fans generate many great ideas for new products. Products will be considered and must be approved by Lauren Neilan, assistant director of athletics for communications. This ensures all products associated with the athletic department are consistent with the image and branding set forth by the department.

What are the costs associated in becoming a licensee?
Learfield has prepared an overview document that details all aspects of the licensing application process for colleges and universities. Please contact Learfield for more information.

How long does it take to complete the licensing process?
The application process can vary, but please plan for the process to take up to 12 weeks.

Where can I buy officially licensed Assumption College Athletics merchandise?
There are numerous retailers featuring Assumption College Athletics merchandise. You can purchase officially licensed merchandise at the Assumption University Bookstore, located in the Hagan Campus Center or online here.